Year 11 Leavers' Day
Back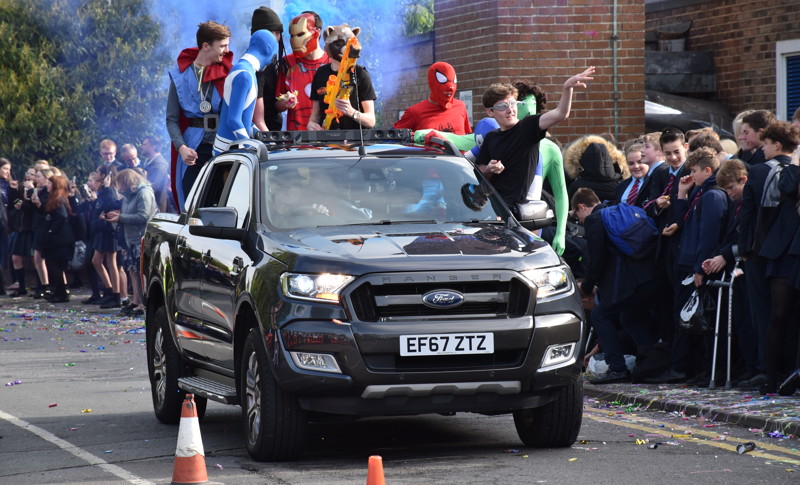 May 10th 2019
Year 11 Leavers' Day has been a highlight of the school calendar for the past 16 years or so. As tradition dictates, the whole school community including students, staff, parents and governors, stood outside the front of the building to welcome the Year 11 students as they arrived for their last day before the start of exams.
Every year students arrive in an array of vehicles which this time ranged from motorbikes to bath tubs, with all sorts in between including an army truck, a tractor, a police car and the ever-popular Party Bus. The enthusiastic crowd of onlookers cheered on the arrivals, many of whom were in modified school uniform or fancy dress which included chickens, dinosaurs, super heroes, cowboys, horses, Sumo wrestler and soldiers.
Once all of Year 11 had arrived, the rest of the school returned to their normal lessons while Year 11 made their way to the hall for a special breakfast and to enjoy the next stage of the celebrations. Speeches were made and gifts given to form tutors, many of whom had looked after their forms since the students' first days at Sandon five years ago.
Once the informal stage of the morning was over, there was a short break to allow students to change into their uniforms and then a formal assembly took place. This provided the opportunity to celebrate the students' achievements, hand out a range of awards, and to enjoy some outstanding performances by some very talented individuals. The students are always so incredibly supportive and appreciative of each other's achievements and this was demonstrated to the full during the morning.
Good luck to all of Year 11 with their exams, and we hope to see many of them return to the Sixth Form in September. For those moving on to pastures new, we wish you every success for the future.