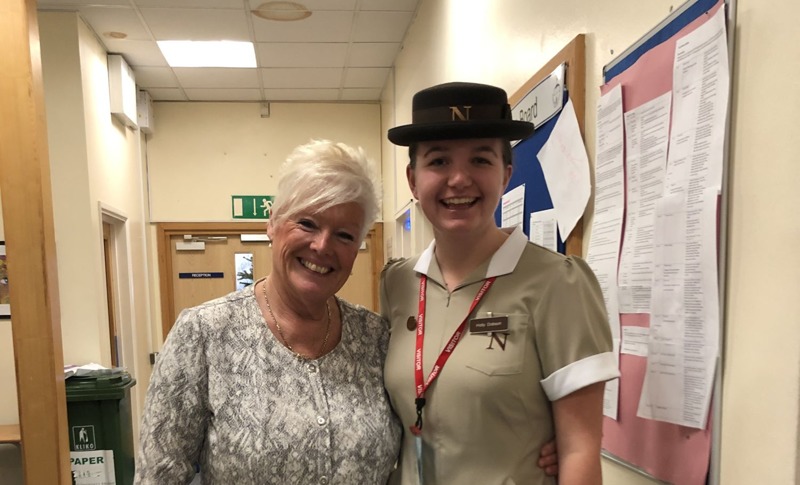 February 11th 2020
The Sandon School was delighted to welcome back former student Holly Dobson, who is currently training at the prestigious Norland College to become a world-famous Norland nanny. Norland was the first place to offer a formal childcare qualification and continues to be at the forefront of childcare research. Norland nannies are in huge demand and have a job for life once qualified with opportunities all over the world. Just 100 people a year are accepted onto the four-year course consisting of a diploma and a degree which run alongside each other.
Holly spoke to a group of Year 10 Health and Social Care students about her experience of Norland so far which was fascinating to hear. Norland prepares its students for life working for high-profile clients including royals and world-famous celebrities and the course encompasses a wide range of content. Norlanders have to be prepared for every eventuality and are trained accordingly. As well as training in areas most people would expect such as child development, paediatric first aid, and other aspects of childcare training, there are numerous unexpected elements. For example, the course includes training in self-defence, skid plan training, Debrett's etiquette training, cyber and security training, dealing with the press and even how to eat the ten most difficult foods in the world.
Speaking of the distinctive uniform, which is largely unchanged since Norland opened in 1892, Holly said that it formed an essential part of the Norland brand and that when wearing it the nannies were brand ambassadors who had to follow certain rules around what could and couldn't be done when in uniform. Even hairstyles were covered by the uniform policy, with hair length having to be either above the collar or tied back in a bun level with the ears. The instantly recognisable uniform identifies its wearer as a professional in their field, trained to the highest standards. In Bath, where Norland is now based, the Norland nannies are a bit of a tourist attraction and find themselves constantly being photographed!
Holly is in her first year of a three-year degree which will be followed by a paid year working for a family, which completes the training. Once fully qualified, the majority of Norlanders move onto employment with families looking after their young children, but many other doors are opened due to the high regard in which they are held, such as maternity practitioners, lecturers or nursery managers.
Holly's visit gave a remarkable insight into her life as a Norlander and the overriding message she left with students is that they should take every opportunity that comes their way, even if it means pushing themselves outside their comfort zones; everything they do they can learn from and gain a bit more confidence each time. She encouraged students to do the best they could, but that not being academic would not necessarily hold you back if you could demonstrate a passion and determination to follow your dreams.